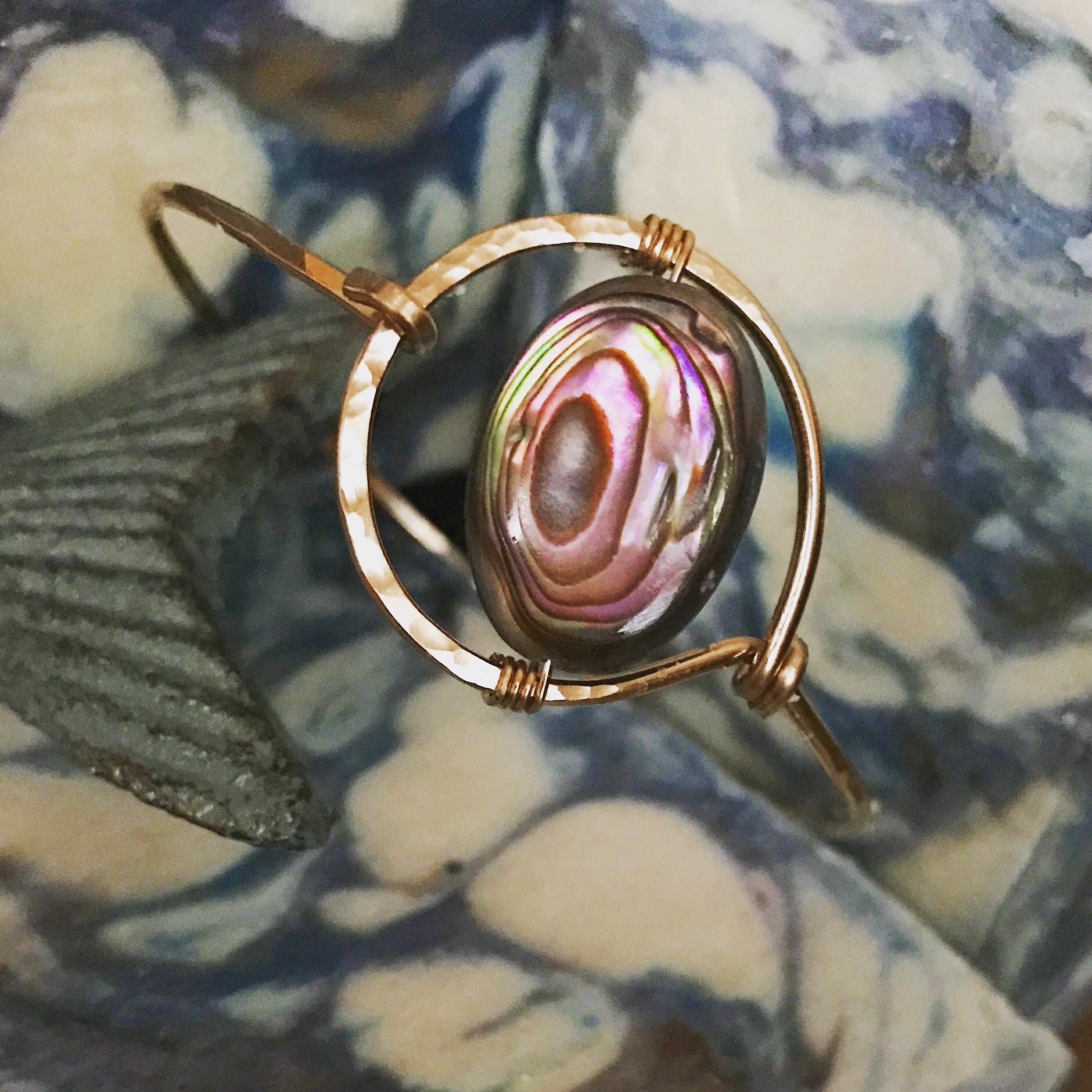 Mermaid Boxes: A Dream
Sometimes, a product turns out exactly how you had pictured, and it is the coolest most numbing experience. This happened in this case! Another beautiful collaboration with the talented Myla James Jewelry. All beads are hand selected with care, everything is hammered and wired to perfection by the maker, and both sets are in 14 K Gold Fill so it will not tarnish while you wear it. These two sets are stunning, dreamy, and truly inspiring to say the very least. Abalone and Gold with the perfect dreamy mermaid soap. Scent is lightly scented and ocean inspired made with local lavender. Great for a man and or woman. Get one of these beautiful Mermaid Boxes while you can. They are limited edition and exclusive.
Ingredients: Organic unrefined olive oil, distilled water, organic unrefined coconut oil, avocado oil, raw unrefined shea butter, food grade sodium hydroxide, custom blend of fragrance and essential oils, lavender flowers, bentonite clay.
Olive Oil: Olive oil has been used on the skin dating back to the ancient Greek civilizations. This oil which is a great source of Vitamin E, and carries anti-inflammatory and antibacterial properties. It can reduce the redness and irritation associated with eczema and helps reduce the amount of bacteria that is on the skin. Penetrates deeply into the skin to help nourish and soften. Great for sensitive skin and inflammatory skin conditions, this oil is useful in managing inflammatory skin conditions the skin
Coconut Oil: Known for its anti-inflammatory, antioxidant, anti-bacterial, and hydrating properties, this oil is an excellent choice for anyone with chronic inflammatory skin conditions. The oil is composed of saturated fats and fatty acids which help repair the skin by trapping water and increasing hydration.
Avocado Oil: Contains high levels of healthy monounsaturated fats, phytosterols, and antioxidants similar to Vitamin E. It is one of the most penetrative of all natural plant oils with strong humectant properties that creates a long lasting moisturizing effect. This results in softer, supple, more hydrated skin. Another great oil choice for sensitive skins, may help relieve dry, itchy, and inflamed skin conditions, increase collagen production, and increase healing of wounds and or burns.
Raw Unrefined Shea Butter: This butter is a superfood for your skin that comes form the seeds of the fruit from the Shea (Karite) tree. It is rich in vitamins A and E, and offers a UV protection of 6. The essential fatty acids, and vitamins are important in maintaining skin's elasticity and suppleness. These properties can help rebuild and rejuvenate collagen revealing smoother, brighter, and clearer skin. Raw unrefined shea butter has been used for used for years to improve the condition of hair and skin.
Rose Clay: Rose clay is a naturally occurring kaolin clay. It has a beautiful rose color and naturally gives this soap a beautiful pink hue. This clay is great for sensitive skin because it will not strip the skin of its natural oils. Used regularly, this soap may help draw toxins to the surface, reduce the appearance of acne on the skin, exfoliate and polish reducing the appearance of pores, and increase circulation in the skin. Lavender Essential Oil health benefits include its ability to eliminate nervous tension, relive pain, disinfect the scalp and skin, enhance blood circulation, and treat respiratory problems.
Colloidal oatmeal is a nutrient-dense product that adds moisture to the skin. It contains both anti-inflammatory and anti-oxidant properties and is ideal for sensitive skin and to treat a variety of skin disorders.
Calendula and Chamomile are known for their soothing, anti-inflammatory properties to help with acne, ulcers, varicose veins, rashes, eczema, and other related inflamed and itchy conditions.
*Medical Disclaimer*
Content on the products from this website are for general informational purposes only and should not be considered medical advice. Product information is not intended to diagnose, treat, cure, or prevent any disease.
Please consult your current health care provider if you have any specific questions about a particular health condition and or concern.
Information on this website has not been evaluated by the Food & Drug Administration.
Medium-Large Bar. Approximately 5 oz. Please be advised that weight and look of the bar may vary due to the hand-cut and handmade nature.
Shelf life approx: 12 months
Please keep the bar in a well draining soap dish and keep dry in between uses.
sold out